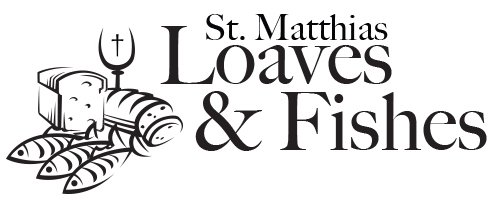 Loaves & Fishes Soup Kitchen and Food Pantry is open every Saturday from 11 AM to 2 PM.  Guests who come will receive a meal and a bag of groceries.  There is also a Clothes Closet.  Because of the Coronavirus Pandemic there will be no seating in the church hall. The noon meal will be a take-out meal.  Bags of groceries will be given out to those in need.

Without balanced nutrition, individuals and families do not have a strong, healthy foundation to work, go to school, recover from addiction or move up and out of poverty. The St. Matthias Loaves & Fishes feeding mission provides hot meals, groceries and other support for these hungry men, women and children who are homeless, living in shelters, coping with addiction, or just having difficulty making ends meet.
Through a corps of committed volunteers who contribute their time, talents and financial resources, we seek to meet the community's needs every Saturday—the need is great; we can do more.  Today we:
Serve over 100 hot meals every week through our soup kitchen.
Operate a food pantry providing bags of groceries to feed more than 100 families and individuals.
Provide a resource center to obtain clothing, personal hygiene items and other services.
Our goal is to restore hope to individuals and families and foster community within our Northeast Baltimore neighborhood. We:
Provide an environment where all in need are welcome.
Offer a safe, warm and engaging sense of community to those who need it.
Welcome people of many faiths and provide nourishment for both body and soul.
Our vision is to both sustain and grow our feeding mission and resource center so that we can help our neighbors thrive. Partner with us to make a difference.

What can you do? Consider supporting St. Matthias Loaves and Fishes.
Make a financial contribution
Of any amount that you can comfortably contribute.
A $100 contribution will help fund over 100 hot meals provided weekly from our soup kitchen.
Help us sustain our food pantry and sponsor grocery bags distributed to over 100 families and individuals on any available Saturday or Holiday of your choice with a contribution of $1000.
Make a multiyear commitment of a $1000/year which can be combined with other support to create a strong foundation which will continue to serve the most needy individuals and families in our communities. That along with similar grants from a dozen of your peers will enable us to help those with the most basic of human needs for years to come.
Make in-kind donations
 Donate nonperishable canned foods.
Volunteer
Volunteer your time and talents to help us serve this community
Questions?
Contact us at [email protected] or 443-743-4727